---
This page is designed as a graphics-enriched, multi-media electronic scroll.

Please be patient as the images open and unfold ...
---

---

arper Tasche (sounds like "mackintosh") began his professional music career at age 13 in Alaska, composing and recording a soundtrack for the U.S. Forest Service. Since being captivated by the folk harp ten years ago he has become an internationally-recognized composer and performer, combining folk, historical/classical, and jazz idioms from Scandinavia, the Celtic nations, continential Europe, and the Americas into a distinct and unique musical style. His recordings and performances have been consistently judged "superb", "magical, refreshing and transparent", "mystical", and "marvelous."
Harper's credits include prizewinning performances at both the 1997 Mòd Vancouver Scottish Gaelic Music Festival and the 1997 International Pop & Jazz HarpFest in Monterey (becoming the only person in history to place at both, let alone in the same season); a guest appearance by invitation at the 1997 O'Carolan International Harp Festival in Keadue, Ireland; a pair of harp ensemble concerts sponsored by the Seattle Early Music Guild; and an internationally televised on-screen performance for the PBS documentary "The Soul of the Pacific Coast Highway" in 1996.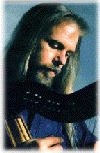 Harper performs regularly throughout the Northwest and has also concertized in the upper Midwest, California, Montana, and Alaska; upcoming bookings include a solo showcase at the 1998 International Folk Harp Conference in Galveston, Texas, and a planned trip to the 1998 Scottish National Mòd on the Isle of Skye.
His three critically-acclaimed solo recordings feature rare cross-strung and wire-strung harps as well as "regular" folk harp; he is also known as a leading interpreter of the haunting and beautiful bowed psaltery, and additionally delights listeners with lively solos for sopranino recorder. Harper's studies include a music performance degree, graduate work in religion, folklore, and counseling psychology, and certification as a Reiki Master; his performances reflect a warm, open, and inviting personality which weaves together music, story, and education into a magical experience for all ages.

Performances | Recordings | Publications | Writings & Reviews
Harper Tasche welcomes inquiries regarding his performances, recordings
and publications. Please contact him at
Harper Tasche * PO Box 171 * Freeland WA 98249
http://www.eldalamberon.com/friends/harpertasche.html
Page-banner photo of the artist © 1997 by Marita/Benham Studio Gallery